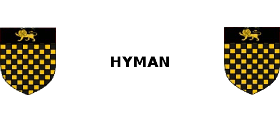 A potted history
My sister and I both have a memory of a story of our great grandfather, Albert Edward Hyman being a 'foundling' brought up by a jewish family. However, it would appear that this is totally erroneous. Whilst Hyman obviously sounds jewish, it is most likely that, for this lot of Hyman's, the name is a derivation of Hayman - well, they were ag. labs. from the west-country.
There are no famous (or infamous) individuals in this particular line. The earliest I've been able to trace this line is my 5x gt. grandfather, John Hyman. John was born c.1740 but I know not where. In 1764 he married a Mary Barley. John & Mary had five children, one of whom was Emanuel Hyman. I've not been able to accurately find a record of John's death.
Emanuel Hyman, my 4x gt. grandfather, was born c.1771 - at least, he was baptised 09 Nov 1771 in Shepton Mallet. &nbspEmanuel married Sarah Drew in 1803 and as far as I can ascertain, they only had one child, John Hyman. Emanuel died 1849 aged 78.
And on to my 3x gt. grandfather, John Hyman. John was born c.1805 in Shepton Mallet. In 1825 he married Mary Young and together had four children. Their second child and first son was William Hyman. John died 1837 aged 32.
My 2x gt. grandfather, William Hyman was born c.1828/9 in Mells, Somerset. The 1841 census returns for the parish of Mells are 'missing' from the PRO which makes it difficult to confirm when he was born, but there is a baptism record from 24 January 1829, so he may have been born late 1828. In the 1851 census, William is to be found, with his mother, in the workhouse in Frome. By 1859, William has made his way east to Stanwell, Middlesex where he marries Elizabeth Wooderson who is 12 years younger than him . William was either very unlucky or perhaps, 'not the brightest spark' as on the 1881 census he is in Staines Union Workhouse and he dies in the same workhouse in 1902. Anyway, William & Elizabeth had eight children. Their youngest was my gt. grandfather, Albert Edward Hyman.
Well, you've already been introduced to Albert. He was born 17 Dec 1873 in Stanwell. (You may want to read my 'Middlesex' page). Albert married Phoebe Knights and they had 17 children! On top of that, they also unofficially adopted/brought up a young man (no one knows the exact circumstances) and also raised an illegitimate child (born to my grandmother), as one of their own children. Three died in infancy, one was killed in WWI and another in WWII. Their first born fought in both wars. Albert & Phoebe's 7th child was my grandmother, Mary Elizabeth "Polly" Hyman.
Mary Elizabeth "Polly" Hyman was born 22 June 1903. Rumour has it that in her 'teens', Polly was a maid at 'the big house' [Stanwell Place]. While there, she became pregnant and had an illegitimate child in 1924 - I'll not give the name as the person in question is only recently deceased. The child was brought-up as one of Albert & Phoebe's. In 1928, Polly married Richard Joseph Cecil Andrews and they had 4 children, the 1st being my mother, Nancy Andrews. However, this poses several questions; Richard & Polly's marriage certificate is dated 29 September 1928, Nancy's birth was not registered until 1941 (by her father) - Mar 1941 Andrews, Nancy; Hyman; Brentford vol 3a p370 - and the date of birth given is 02 October 1926. So, what to make of all this! Why did it take almost 2 years (after the birth of my mother) for Richard & Polly to get married? Why the delay in registering the birth? Why was Nancy born in Isleworth? (Maternity hospital?) I guess we'll never know!
For a complete descendant report for John Hyman, click here
ENTYMOLOGY:
Hyman
Topographic name for a man who lived by an enclosure, from Middle English hay + man. The term was in many cases effectively a synonym for Hayward.
English: nickname for a tall man.
English: occupational name for the servant of someone called Hai, with man in the sense 'servant'.
English: occupational name for someone who sold hay. ©Genes Reunited